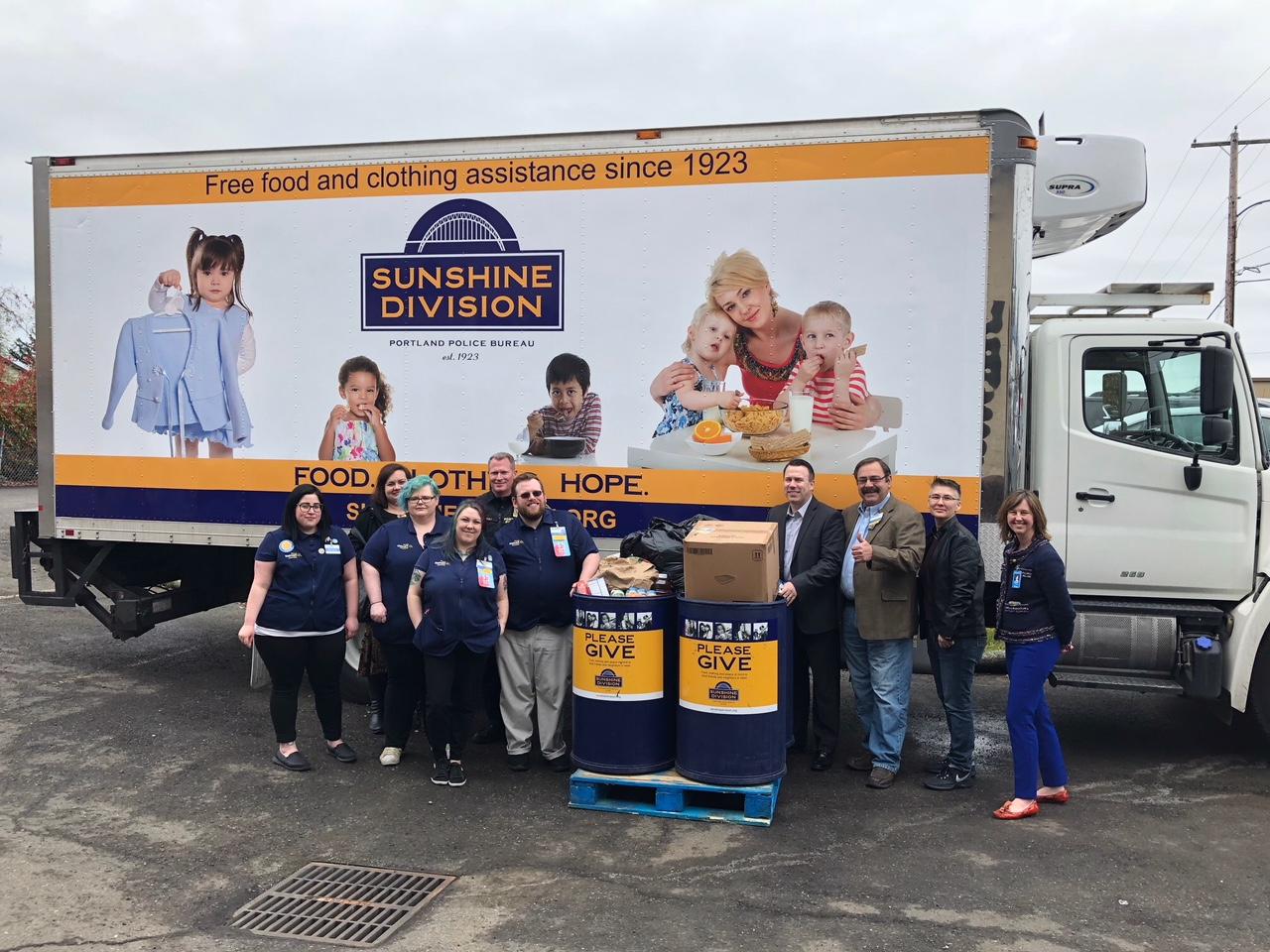 We provide free accessible food and clothing assistance to struggling local families and individuals.
We offer food assistance six days a week at our N Thompson location, five days a week at our SE Stark location, as well as 24/7 through our partnership with the Portland Police Bureau who store food boxes at each police precinct that can be dispatched to people in need at any time. In addition to food relief we also offer new and gently used clothing.
With the ongoing pandemic, we continue to do our due diligence to take precautionary measures that help to protect our clients, volunteers, and the people we serve.
As such, both of our food pantries are continuing to offer a temporary emergency food box distribution method.  This change ensures that all clients may still receive emergency food without coming in direct contact with others.  Food boxes are available near each facility entrance and do not require families or individuals to have direct exposure with others when picking up.
If you or someone you know is homebound and/or medically fragile, request a free food box to be delivered to your home today by clicking the button below.
Additionally, our clothing rooms are suspended until further notice.
As the situation develops, we will continue sharing updates. Thank you!


687 N. Thompson St.
Portland, OR 97227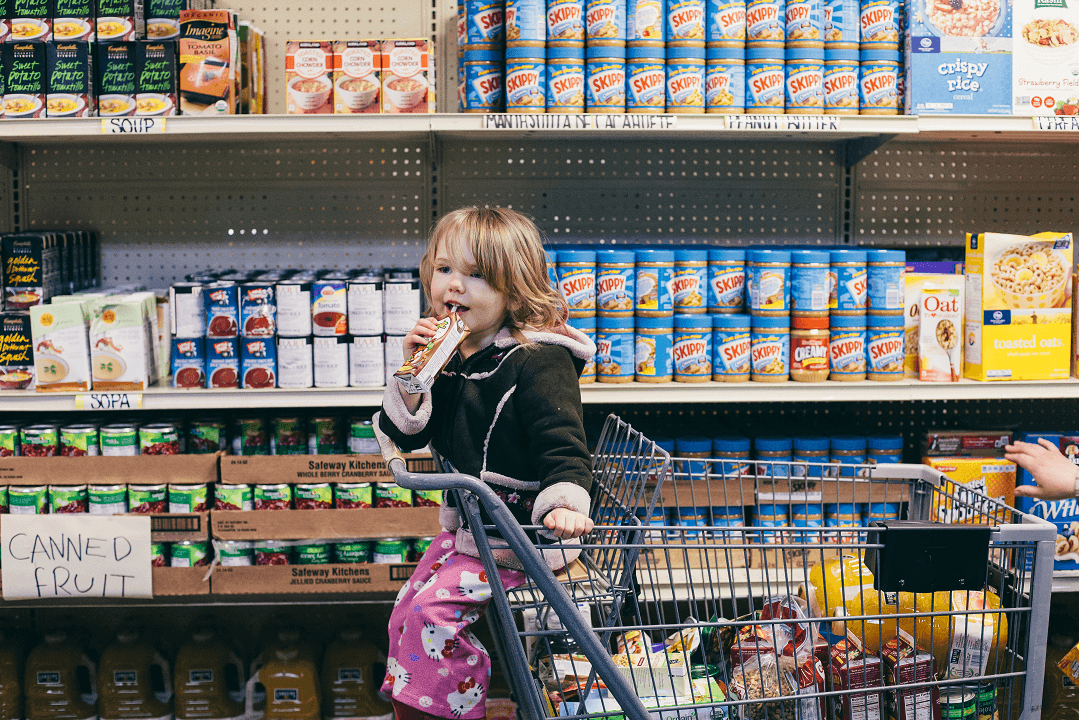 FOOD ASSISTANCE
Monday – Friday
9:30am to 11:00am
12:30pm to 3:30pm
Saturday
9:00am to 1:00pm

12436 SE Stark ST.
Portland, OR 97233
971-255-0834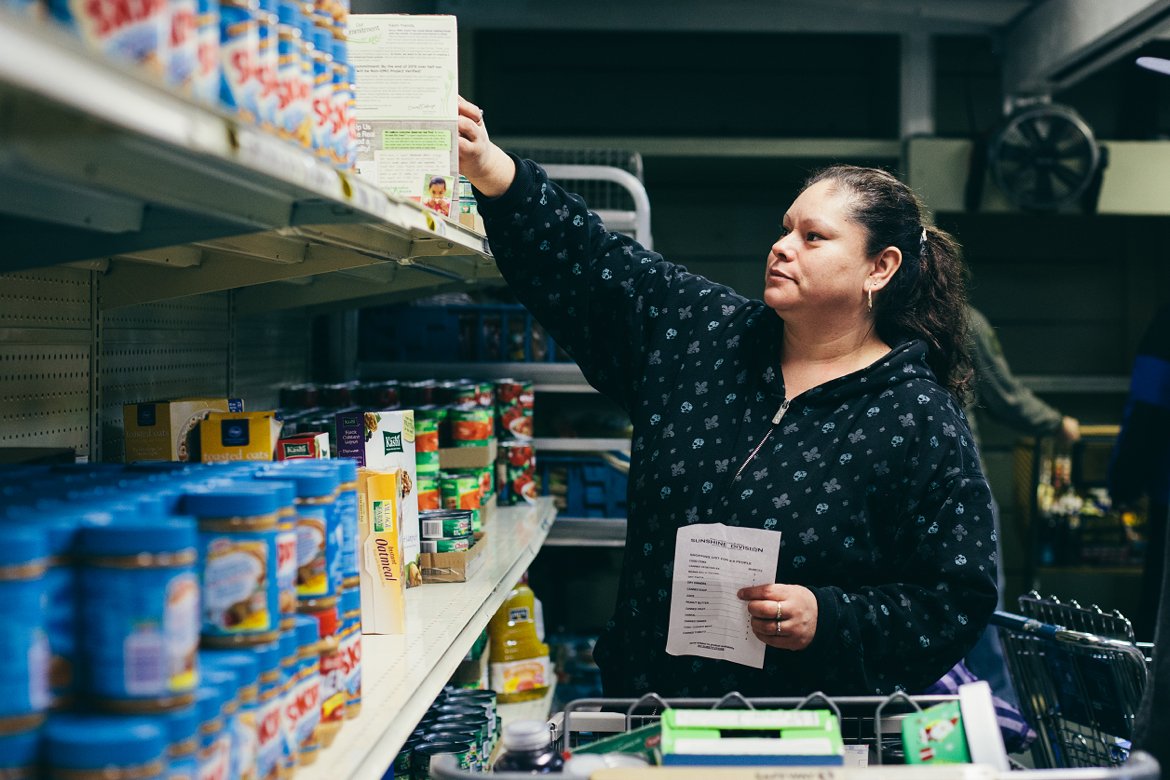 FOOD ASSISTANCE
Tuesday – Friday
9:30am to 11:00am
12:30pm to 3:30pm
Saturday:
9:00am to 1:00pm
Every donation – small or large – makes a dramatic impact. Give tax-deductible financial support; the most direct effective way to help provide support to thousands of Portland area families and individuals each year.
Food
Monday - Friday:
9:30 to 11:00am &
12:30pm to 3:30pm
Saturday:
9:00am to 1:00pm
More Info
Legacy Gifts
Supporting the Sunshine Division for Generations to Come
We know you care about families struggling to get by. And you know that your regular gifts to the Sunshine Division are a vital part of the support and HOPE we provide to people experiencing hunger.
Now there is a way you can assure that your generosity will continue to support those most in need for decades to come. Legacy or Planned gifts through your estate assure the Sunshine Division will here for our community's most vulnerable residents both now and in the future.
Leave a legacy.  To learn more about how to help us achieve our vision of assuring that emergency food relief is always available to ALL hungry people in our community, please review the following ways to make a meaningful charitable gift through your estate or call Marcie Kessel at 503-320-2638 or 
Make a Bequest Gift
A bequest through your will is one of the simplest, most widely used and flexible ways to make a planned gift. You pay nothing now but make a real difference in the lives of others. If you have already made provisions for the Sunshine Division in your estate plans, download our Estate Giving Confirmation form [Heritage Society Form]. We would appreciate the opportunity to thank you now for the difference your gift will make for years to come.
Sample Language
The following language can be used to make an estate gift to the Sunshine Division:
Unrestricted Gift: "I give (a specific asset) or ($__ dollars) or (__ percent of the rest, residue, and remainder of my estate) to the Sunshine Division, Inc., Portland, Oregon, for its general purposes."
Specific Use Gift: "I give (a specific asset) or ($__ dollars) or (__ percent of the rest, residue, and remainder of my estate) to the Sunshine Division, Inc., Portland, Oregon, to be used for the following purpose: (state the purpose, e.g., to fund annual holiday food boxes, to support Izzy's Kids, or other purpose)"If at any time in the judgment of the Sunshine Division Board it is impossible or impracticable to carry out exactly the designated purpose, the Board shall determine an alternative purpose as near as possible to the designated purpose."
Important Information for Your Attorney/Advisor
Please note: The Sunshine Division's activities and programs change over time and the needs of future generations may not be in alignment with current programs. If you indicate a specific use for your estate gift, the following language will grant the Sunshine Division the authority to respond to changing needs:
Legal Name: Sunshine Division, Inc.
Tax ID# 93-0429354 – an Oregon non-profit corporation
Physical and Mailing Address: 687 North Thompson Street, Portland, OR 97227
* The purpose of this information is for general knowledge and is not meant to be legal advice. Tax deductions vary based on applicable federal laws. It is recommended that you consult your attorney when preparing your bequest/will.
Life Insurance
You can designate the Sunshine Division as a beneficiary of your life insurance policy. Contact your advisor to make arrangements.
Retirement Plans/IRA Gifts
Whether you have an Individual Retirement Account (IRA) or a company retirement plan (or a combination) you can choose a charity like the Sunshine Division as the final beneficiary of any remaining funds which you or your loved ones do not use. Or you can designate all (or a percentage) of your retirement fund account to benefit one or more charities without losing any income during your lifetime.
Advantages for Donors
The donor retains all income rights and benefits of the fund assets for his/her lifetime—nothing is transferred prior to the donor's death. The property passes on to your designated beneficiaries upon death.
Gifts bypass income tax that would otherwise be assessed to heirs at death.
Possible estate tax savings.
Contact your fund administrator for more information and to request a change of beneficiary form.
Contact Us:
Do you have questions or want to discuss other ways you can give? Please give us a call! We would welcome the opportunity to meet with you and your advisors, and help you decide on the type of gift that works best for you, your family and the Sunshine Division. Contact Kyle Camberg at kyle@sunshinedivision.org or 503-823-2131.
Food
Tuesday – Friday
9:30am to 11:00am
12:30pm to 3:30pm
Saturday:
9:00am to 1:00pm