Make a difference. Give back today
Give a Monetary Gift
Making a monetary donation is the most direct and effective way to help provide emergency relief to thousands of families across the Portland area. Our team is capable of stretching every dollar we receive to maximize our ability to support those in need
Donate Food

We rely heavily on food donations to make our mission possible. We are always looking for the following non-perishable items: canned meats, pasta, rice, cereal, soup/broth, peanut butter, canned/dried beans, canned fruit, canned vegetables, cooking oil and shelf-stable milk. 
To ensure food safety we cannot use: Noncommercial or repackaged items, perishable items, open or used items, alcoholic beverages, damaged or unlabeled cans, homemade items.
Donations can be dropped off at either of our two pantries located at 12436 SE Stark St and 687 N Thompson St.
Use your skills or give equipment you don't need

We are always in need of warehousing, food storage or handling equipment, and professional services.  We do not accept home furniture. Equipment we need includes restaurant-grade refrigeration equipment, folklifts, pallet jacks, printers and laptops. Services we need include printing signage, web design, and dry storage.
We also accept vehicle donations. Your car, truck, van, RV, or boat with a trailer can help us make a difference.
Give stock or real estate

Appreciated stocks and real estate are among the best assets to fund a charitable gift. The gifts can be made outright or used to create an estate plan beneficial to you for the remainder of your life and Sunshine Division thereafter.
For more information on how you can support Sunshine Division in this manner, please contact Kyle Camberg at 503-823-2131 or kyle@sunshinedivision.org
Donations may also be sent to our main office:
Our Tax Identification Number (TIN) is: 93 0429354. To learn more about our Financials,

click here

.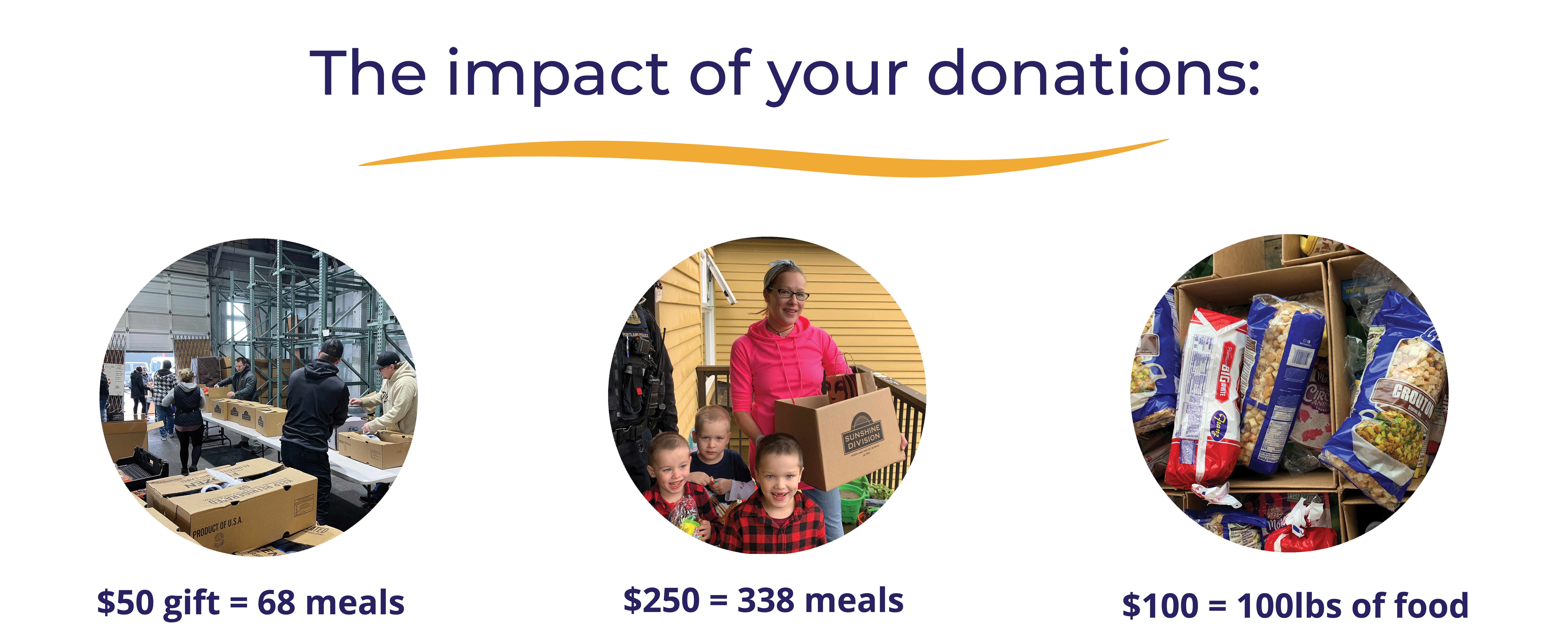 We are not accepting clothing donations at this time. 
Food Assistance
Tuesday – Friday:
9:30am to 11:00am &
12:30pm to 3:30pm
Saturday:
9:00am to 1:00pm
Clothing Assistance (For the time being, our clothing rooms are closed) 823.2102
Food Assistance
Tuesday – Friday
9:30am to 11:00am &
12:30pm to 3:30pm
Saturday:
9:00am to 1:00pm
Clothing Assistance (For the time being, our clothing rooms are closed)