Watch a Video About Our Crisis Response Efforts
1,500 volunteers make the work we do possible
3,800 holiday meals served this year
2 food distribution programs at local schools feed children year round
Nearly 500 kids "Shop with a Cop" for back to school clothes every year
$5.2 million dollars of free food and clothing distributed annually
25,000+ turkey meals distributed throughout the metro area in November and December
Support Sunshine Division
We are a local nonprofit that has been around for nearly 100 years, in partnership with the Portland Police Bureau, providing free emergency food and clothing relief to families and individuals in need.
Due to the covid-19 crisis, we are unable to hold our in-person spring fundraiser. Instead, we are hosting "Shine Online" this year. All proceeds will directly benefit our mission of providing free emergency food relief to families and individuals in need.
Support our efforts and help us reach our goal of raising $200,000.
Many amazing sponosors have brought us nearly halfway to our goal already!
Give now to support our efforts by clicking any of the buttons below.
Read More about our Crisis Response Efforts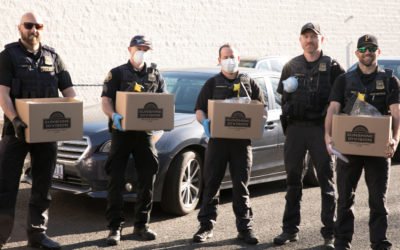 Sunshine Division, a hunger-relief agency in Portland, Ore., is getting food delivered to people...